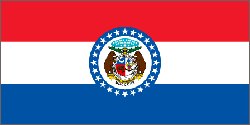 Missouri
"Show-me State"
Motto

Salus populi suprema lex esto (The welfare of the people shall be the supreme law)

Capitol

Name Origin

Named after the Missouri Indian tribe. "Missouri" means "town of the large canoes."

Statehood Date

Aug. 10, 1821 (24th)
Cities in Missouri
NOTE: Not all cities are displayed. Please narrow your selection by using the search above.
Official Symbols
A state's official symbols represent the composition and culture of the land and people who live and have lived here. Below are the symbols of Missouri along with the year they became official.
| | |
| --- | --- |
| Flower | Hawthorn (1923) |
| Bird | Bluebird (1927) |
| Aquatic Animal | Paddlefish (1997) |
| Fish | Channel Catfish (1997) |
| Song | "Missouri Waltz" (1949) |
| Fossil | Crinoid (1989) |
| Musical Instrument | Fiddle (1987) |
| Rock | Mozarkite (1967) |
| Mineral | Galena (1967) |
| Insect | Honeybee (1985) |
| Tree | Flowering Dogwood (1955) |
| Tree Nut | Eastern Black Walnut (1990) |
| Animal | Mule (1995) |
| Dance | Square Dance (1995) |
| Missouri Day | Third Wednesday In October (1969) |
Demographics
Population Density

81.2 people per square mile
Geography and Weather
Land Area

68,886 sq mi. (178,415 sq km)

Lowest Elevation

0 ft (0 m)

Average Elevation

800 ft (243.84 m)

Highest Temperature Recorded

118°F (48°C) on July 14, 1954

Lowest Temperature Recorded

–40°F (–40°C) on February 13, 1905