Contact Info
Toll Free Booking, call:
Marinas
Bull Shoals Lake - Bull Shoals Lake Boat Dock
Basics
Length

60 feet
Width

16 feet
Capacity

12 persons
Staterooms

4 Staterooms and 1 Penthouse
Sleeps

12 persons
Bed Details

2 Queen Beds, 2 Full Beds, 2 Pull-out Beds, 1 Cuddy
Bathrooms

2 Full Bathrooms
Trip Lengths

3 Nights (Fri-Mon), 4 Nights (Mon-Fri), 7 Nights (Mon-Mon or Fri-Fri)
Description
►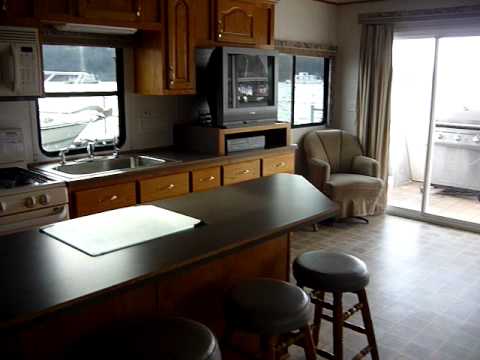 The 60' Houseboat is a massive boat wonderful for large gatherings or large families. Up to 12 people can rest within the 60-feet, which has four private bedrooms, two with queen beds and two with full beds in addition to 1 full size sofa, 1 futon and a small upper cuddy.
The kitchen is very well equipped. Beyond a microwave and a full range, two full refrigerators mean that there's plenty of room to store both ingredients and leftovers. A gas grill is on the back deck. You can eat out under the sun or at the kitchen's dinette.
An excellent water-slide makes your swimming experience even more fast and fun. Dry off afterwards on the sundeck, or watch the water from a more shaded perch from the party top. Then head inside to relax in a different way - with the TV/DVD/VCR in the living room.
Rates & Seasons
Please Note: The pricing information displayed below is subject to change (and it does change frequently). We endeavor to be as accurate as possible, but make sure you confirm pricing with your customer service agent before booking any trip.
Season
Dates
3 nights weekend
4 nights midweek
7 nights
Off Season
03/12/18 - 05/20/18
09/07/18 - 11/09/18
$1,100
$1,100
$1,600
Mid Season
05/21/18 - 06/17/18
08/06/18 - 09/06/18
$1,900
$2,000
$2,700
In Season
06/18/18 - 08/05/18
$2,800
$2,900
$3,800
Off Season 2019
03/11/19 - 05/19/19
09/10/19 - 11/08/19
$1,300
$1,300
$1,800
Mid Season 2019
05/20/19 - 06/16/19
08/05/19 - 09/09/19
$2,000
$2,100
$2,800
In Season 2019
06/17/19 - 08/04/19
$2,900
$3,000
$3,900
Off Season 2020
03/09/20 - 05/17/20
09/07/20 - 11/06/20
$1,400
$1,400
$1,800
Mid Season 2020
05/18/20 - 06/14/20
08/03/20 - 09/06/20
$2,100
$2,200
$2,900
In Season 2020
06/15/20 - 08/02/20
$3,000
$3,100
$3,900
Off Season 2023
03/27/23 - 05/18/23
09/05/23 - 11/03/23
$1,850
$1,850
$2,250
Mid Season 2023
05/19/23 - 06/15/23
08/04/23 - 09/04/23
$2,450
$2,550
$3,250
In Season 2023
06/16/23 - 08/03/23
$3,350
$3,450
$4,250
Pricing does not include tax or fuel